Cats love climbing just as much as how they love napping. But we can't offer them an indoor tree for them to climb on nor can we let them go outside all day just to climb on the tree that you have in your backyard. Maybe some animals are sharing that tree like squirrels or raccoons and they will definitely not welcome the appearance of your felines.
Sooner or later your cats will eventually end up fighting with those unwanted "friends" to get their tree back but you, like a cat parent, don't want to see your treasure babies being hurt so for their safety you have to think of a better solution. And what I brought to you today in this blog is the answer to that question.
Cat shelves have become very popular for many cat owners because of its convenience and the positive impact that they have on the cats, especially the shy and passive ones. What is a cat shelf and what are its magical functions that I've been talking about? Now let's take a closer look at this wonderful invention.
1. SmartCat Cat Climber
Buy it now
This SmartCat four-level cat shelf came on top of my search as it received the most positive reviews and recommendation from users.
As you can see from the providing picture, this shelf has four pads with four different levels of height. This item will be a good place for your fat cat to start exercising and bring back his/her climbing joy. This cat shelf is made mostly of durable wood and the post is cover with natural sisal giving your cat a great scratching experience as they climb. The four platforms are all carpeted in order to give the cat extra softness when jumping on these pads.
Unlike other cat shelves, which are usually hard to relocate as they are often mounted on walls, this unique cat shelf can be moved with ease from room to room thanks to its clever design. Its spring-loaded bracket system allows it to stick on any virtually any standard door making it super easy to move around in your home. It is also possible to have it stuck onto a wall if you wished.
The full set of these carpeted cat shelves is selling at nearly $70 for an item and this is a good price for a flexible and sturdy cat shelf. The designer said that he already had three of these cat shelves at home and his cats just can't take their "hands" off them. I hope this would work the same on your cats, too. If you find this beautiful cat shelf interesting, you should spend some minutes drop by the collection of cat climber, they will surprise you with more appealing choices!
---
2. EWEI'S HomeWares 3 Floating U Shelves, Espresso Finish – Cheap Cat shelves
Buy it now
This EWEI'S HomeWares shelf is not designed for cats but interestingly, many people soon find out that their cats love lounging on these shelves so they decided to spare some of these shelves for the cats.
The full set of these shelves consists of there evaluated pads and they are encouraged to be hung at a different height to give the cats a better climbing experience. This item comes in three colors and each color has a slight difference in price.
Please notice that this product is not made of real wood but MDF so you should avoid contacting with water so as to keep your cat shelf in a good look. Therefore, a dry cloth would be a better choice when it comes to cleaning.
This set of cat shelves is already included all the needed hardware equipment but you will need a hammer and a screwdriver when assembling the shelves. It wouldn't take you much time for setting this up but you have to plan where to mount these shelves before assembling since once it is fully constructed it would be hard for you to have it relocated. Add a small towel on one of the shelves so your cat can take a nap when they are tired of climbing.
This product's price varies from $15 to $17 which is a very affordable price for most cat owners. With just 15 bucks and you can give your loving furry babies an indoor play zone so this shelf definitely worth a try, doesn't it?
---
3. BIG NOSE- Wall Mounted Cat Climber Multi-Level Shelves with Solid Wood Steps and Sunny Seat Hammock
Buy it now
This BIG NOSE cat stand is a stylish freestanding cat post that can be easily placed in any corner of your house. It is also well designed to match with virtually any house to create a beautiful resting area for your kittens.
The full set of this cat shelves comes with one big cat post for your cat to freely climb on. It's also a perfect place to fulfill their scratching instincts. This product would also include three cat shelves which can be stuck on the cat post at different heights. It is much better to see your cats working out on these cat shelves rather than just being lazy on your couch, right?
The given cat post is covered in natural sisal providing the cats with a proper place for scratching. The resting boards are made of solid wood so they are sturdy enough to hold a cat with 15 lbs. If you are having a big buddy, this one is not for him/her as this item has the limited bearing capacity and is quite small to the big cats' size. If these cat shelves cannot hold the cat's weight, you can search for another more suitable alternatives that I am going to talk about in this blog.
The full package will come with all the necessary hardware for installing. If you missed some of the cat shelves components, you can find them on Sunpet, they will have all the hardware that you need to put the cat shelf up.
These cat shelves are incredibly easy to assemble and also have a fairly reasonable price for many cat owners, too. So the whole set of this product would cost around $40. I think this is the average price for everyone and if you want one for your baby feline, don't hesitate to buy these cute cat shelves. I believe that your cats will be excited about the appearance of this cat shelf.
---
4. The Refined Feline Lotus Leaf Cat Shelf – Curved Cat shelves
Buy it now
The Refined Feline is one of the most famous manufacturers in terms of cat furniture. What they have done in their collection of cat bed and other cat toys has left many cat lovers with a good impression and today I am going to include some of their products in my blog so if anyone of you here who are already a fan of this provider can get various choices from this reputable brand.
This product includes one single evaluated pad which is also carpeted to provide extra softness and warmth your cat to lounge on. The main materials used for making this product is the mixture of solid wood and bent ply. The pad only offers enough room for one cat so if you have more than one cat at home you should each of them one. You can get to choose the color as well. About cleaning, the carpet that laid on the shelf is removable for washing and the shelf can easily be cleaned by using a cloth.
When you order more than one shelf you can turn them into a simple stylish canvas for your empty wall. By doing this, you can save your space for placing other furniture and decorate your tedious wall at the same time. I'm sure that both your cats and you would be happy with the result.
This stylish cat shelf is selling at 67 bucks for an item. Since it is made out of wood so it would be more expensive than those made of MDF or plastic but for me, it is still an affordable price. I think wooden cat shelves like these would be more economical in the long run as it would be around a lot longer than other plastic made cat shelves.
---
5. On2Pets Cat Furniture Canopy Shelves for Climbing, Playing and Relaxing
Buy it now
Want to make your cat shelf look more realistic and lively? No problems. This unique cat shelf will do the job for you. With the look of bushes, these indoor cat shelves will give your cats a much more adventurous and outdoor alike climbing experience.
Your cats would never feel bored with these unique cat shelves as they would bring back their true instincts, which includes a habit of climbing and hiding on high spots. These shelves are made to hold up to 32 lbs so almost any cat can freely jump on it without worrying about falling off.
These wall-mounted cat shelves come with adequate hardware that needs for installation but you will have to prepare some simple stools like a hammer or screwdrivers. Once you have all the supporting tools for setting this cat shelves up, the installation would be much easier. It won't take you more than 5 minutes to finish the assembling.
This naturally designed cat shelf is a fantastic gift for any cat lovers, especially when they are moving to a new house. These cat shelves would be a nice piece of furniture to add on their newly painted wall making the empty wall become a lovely tiny jungle inside the house.
The full set of this product has a price of $50 and this is also a good price. Let's surprise your best furry friends by turning your living room wall into a small hanging woods! I'm sure that they will love it right at first sight.
---
6. CatastrophiCreations One Floating Sisal Cat Post Step – Handcrafted Cat Shelf
Buy it now
CatastrophiCreations has an idea of creating a simple to mount cat shelving for customers' easy assembling. This lovely wall mounted cat shelf would give the cats a fantastic indoor play zone and a scratching pad as well.
The full set of these modern cat shelves is all handcrafted and is super easy to assemble. However, you do need some tools to help you finish the work. The full package would also include all the screws and hardware needed for assembling. The assembled posts are strong enough hold up to 62 lbs so there's no worry that would fall off while your cats are exercising up there.
This product would challenge your cats both mentally and physically and as a result, your cats would be much healthier. This can work well for more than one cats so don't worry, your cats won't be fighting over this cat shelves.
These beautifully handcrafted cat shelves are selling at 40 bucks and there cannot be an any better price. They would be a very nice piece of canvas in any cat lover's home. Their contemporary design would make your home look even more beautiful and elegant. If you find these cat posts match your need, visit the link that I have put above to learn more about the collection of cat post.
---
7. Ultimate Cat Perch – No Hanging Wires & Stronger for Increased Reliability
Buy it now
Ultimate Cat Perch has an idea of making a cat shelf that is free of hanging wires in order to give the cat an experience of more sturdiness. This cat perch is highly recommended for those who want an easy-to-assemble and long-lasting cat shelf.
If these cat shelves are not hung, how can they be stuck tight on the surface? Ultimate Cat Perch has created powerful suction cups, which can be applied directly on the windows or any glass surface. When it is fully set up, it will have a holding capacity of up to 80 lbs! This means even your fattest cat can still use it without worrying about falling off the shelf.
The frames of this cat perch are already glued so it won't tear apart while using. Unlike other products that have suction cups and wires covering some areas of the view, this Ultimate Cat Perch's shelf has put all those things under the shelf so your cat can enjoy 100% of the view without having any obstacles that come in their way. Remember that this cat shelf is considered big compared to other similar items so your window must be at least 24 inches wide to fit the dimension of the product.
This window cat shelf is selling at nearly 45 bucks for an item and it is warrantied with 100% money back so if you are not happy with the result that it brings, you can ask the provider for a refund or a replacement if you wish.
---
8. Cat Window Perch Bed | Kitty Window Bed Hammock | 50lbs Suction Cups Cat Bed
Buy it now
Windows are cats' favorite spots in every house. They can spend hours lying next to the window without feeling bored. I wonder what makes those windows so appealing to the cats until I saw this lovely cat perch.
This modern cat perch is making believe that windows are actually an interesting place to sit on. This item can be stuck on any windows or glass surface thanks to the help of the high-quality patented suction cups. These cups are stuck so tight on the glass that it could hold up to 50 lbs at once so it would work fine on your fatty friends, too.
The cat bed fabric is made using gray micro-suede which is tear-resistant, lightweight and breathable. This material would make your cat feel warm in winter and cool in summer. If the weather is too cold, you should add a small blanket on top of the perch so your cat can feel a little bit warmer in a snowy day.
This item is already assembled so all you need to do is applying the suction cups on the windows at an appropriate height so that your cats can easily jump onto it. If you still don't know how to do it right just follow the instructions given in the instruction book. These cool cat shelves are selling at nearly $40 for an item and you can easily get it on Amazon. Many kitties enjoy chilling on this beautiful cat perch and I'm sure that your cat is dying for one. To get your felines a suitable window cat perch, follow the attaching link to get more details of the collection of cat perch.
---
9. RayCC Cat shelves Cat Steps Cat Perch Cat Cloud Cat Bed Wall-Mounted Cat Furniture Great for Cat Climbing
Buy it now
Do you want to get your kitties to start their very first jump? If yes then these indoor cat shelves are what you have been looking for. Normally, small kitties are still afraid of jumping on high spots so big tree in your backyard would not be a good choice for them. Moreover, they could get hurt if being chased by other animals living on that tree. So for more safety for your treasure babies, try getting them these cute little cat shelves!
This set of cat shelves offers the cats multi-level design to help the cats to easily jump from one to another. I believe that when these enter your home, your kitties would be much more active and happy. I think if they can skillfully jump on those shelves, they will soon find out climbing is actually fun and enjoyable. This would bring back their true climbing spirits.
These cat shelves fabric are made using breathable Oxford cloth giving the cat enough softness when lounging on one them. Please remember that these shelves are made for small size cats or young kitties so if you are having a big and fat feline, this is definitely not the one for them.
A big plus for this product must be the simple assembling. The process of setting up these cat shelves can be summed up in 4 simple steps and they have already included in the instruction book. They will also include pictures along with the detail instruction for you to follow. As these are made for kitties, you should put them at a suitable height so it would be much easier for them.
The full set of this product comes with a price of $40 and I also think that's a reasonable price. Making of high-quality materials, these shelves would be around for a long time for your cats to play with. Should you want more information about the similar products and other cat furniture, drop by the link above to take a look at the collection of the cat bed.
---
10. CatastrophiCreations Fabric Raceway Multiple-Level Cat Hammock Wall-Mounted Shelving – Hanging Cat shelves
Buy it now
This wall mounted cat hammock from CatastrophiCreation is beautifully hand-crafted for providing our loving furry friends a strong and sturdy climbing experience. This cat hammock is designed to bring back the love for climbing of your felines, especially those are familiar with indoor lifestyle and rarely have a chance to play outside.
The whole package will come with two wooden hammock beds and one piece of cotton canvas. The canvas would be a perfect place for your cats to lounge on when they are tired after an interesting climb.
This item would make your living room decorations more attractive to both your family members and your cats. The cats would be busy all day on the shelves so they won't have time to mess up with your beautiful furniture. It's advisable that you choose a quite roomy wall to have this item mounted so the cats can freely enjoy themselves in a spacious and comfortable play zone.
This product is all handcrafted in the US and fully assembled so all you need to do is to have them mounted on the wall. Hardware and studs will be all included, you will have to prepare some extra tools like screwdrivers or a hammer to help you do the job. Besides, if you don't want to use these studs for mounting, you can try using some toggle bolts for an alternative. Please notice that the toggle bolts would not be included in the product. You will have to buy them separately.
This cat hammock is now selling at a price of nearly $90. I would consider this product expensive comparing to other similar products. This price would back off some of the potential buyers but I think this item deserves this price as it is all handmade using high-quality materials and by the skillful handymen. For more details of the collection of cat hammock, please visit the attaching link that I have put right at the beginning.
---
11. CatastrophiCreations Cat Mod Climb Track (New)
Buy it now
This set of premium cat shelves is selling at nearly 350 bucks for the whole package. You may think they are crazy to put such a price on a single piece of cat furniture. However, everything happens for a reason, I believe CatastrophiCreations team has an interesting reason behind this luxury product.
This beautiful set consists of 8 mounting planks, 2 ladder pieces, 1 sisal lined escape hatch and canvas fabrics to link them all together. These items are all made of best quality materials giving the customers a luxury experience when using this product.
This product is all hand-crafted by professional handymen. They have done a great job in designing this play zone for our loving cats and successful in improving many features in previous products to better the quality of this cat shelf. For instance, in previous versions, the canvas is permanently attached to the shelf making it difficult for pet owners when cleaning. Now, this weakness has been eliminated in this set.
The floating design will also create a nice piece of furniture added on your monotonous wall. This unique design will increase the complexity of these floating cat shelves so this is really a physical and mental challenge for your cats. Now you can sit back and enjoy the performance of your lazy boss.
When producing this product, CatastrophiCreations aims at providing customers with luxury and much better-using experience so the price is clearly not for everyone. But if you can afford this cat shelf, it would give you a special experience compared to the mass-produced ones. Still, if you find them too expensive, you can find another better alternative in the collection of cat tree on the link above.
---
12. CatastrophiCreations Solid Wood Cat Shelf Handcrafted Wall-Mounted Cat Furniture
Buy it now
This one is a cheaper alternative for anyone who wants a cat shelf from CatastrophiCreations. This cat shelf is also well handcrafted by the professionals so it will definitely not let you and the cats down.
This product is carefully handcrafted using solid wood giving enough of sturdiness that your cats want from a cat shelf. In addition, the pattern on each wooden shelf is also beautiful and eye-catching so it will match your interior decorations flawlessly.
These shelves come in two sizes for different purposes. The small size is used as a stepping stone for the cats to switch to other shelves and the large size can be used for the cats to lounge on and take a nap while playing.
This item comes in fully assembled so you just have to finish the mounting then it would be ready for use. they provider will include all the necessary hardware, screws and anchor for you in the package so you don't have to buy them separately. Carefully choose the right area to have them mounted as you won't have a chance to regret after assembling.
This full set of cat shelves is selling at a very affordable price which is $38. With just 38 bucks you and your cat can enjoy a luxury piece of cat furniture. Don't hesitate to get one for your best furry friends, they will love it!
---
13. Outdoor Cedar Cat Wall System: Perch – Wood Cat shelves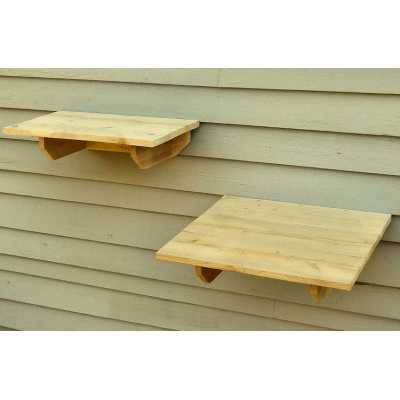 Buy it now
Now it's time to get the cats to the outside world. For indoor cats, they will find living under a sturdy roof is all they need and no need to relate themselves with the outdoor activities but do you know if your cats keep on leading a lazy and passive life they would end up being an unhealthy couch potato?
These outdoor cat shelves will help you out in encouraging your lazy boss engaged to the outside activities. As they are made using strong cedar it can work well in any weather condition and is also bug resistant. And that's why it perfect for outdoor use.
These outdoor cat shelves would be a fun play area for your indoor cats when they first playing outside. These cat shelves would be a safer choice for them compare to other higher spots in the garden. The shelves would also give them a perfect place for sunbathing, too.
The full package will come with all the requiring hardware. All you need is some basic tools to finish the mounting. If you don't like the color of the shelves, you can repaint them in any color that you want.
This set of outdoor cat shelves is selling at 50 bucks and it is definitely a reasonable price. Let's make your home become a more exciting playground for the cats both inside and outside by simply adding this cat shelf to your house.
Conclusion
Your cats are great climbers and climbing is one crucial part of their life. That's the reason why we always find them in high spots in our house.
Understand their habits, these cat shelves are created to improve the quality of cat life. Your cats would be much more active when they get to have proper "toys" and these shelves are just exactly what they need. If you want to maintain your cat's happy life, you really should give him/her one of these amazing cat shelves, it would turn their boring life to another exciting new chapter.
However, there are a few things that you have to consider while getting your best furry friends a cat shelf like bearing capacity, prices, sizes, etc. Make sure you get the right one for your little bosses, ok? I hope my today review would help you out in choosing your cats the best cat shelves or at least it could help you sort out the most relating ones that satisfy your need.